The best gutter guards prevent gutters from being clogged by debris. So, do gutter guards work? The answer is yes. These systems have a design that allows water to get in the gutters while keeping debris out. They are instrumental during heavy storms, in the fall season when leaves fall off trees and if your house is in an area prone to such debris as pine needles, leaves, branches and twigs.
Are gutter guards worth it? The answer is again yes. Gutter guards keep the gutters clean, so you never have to keep climbing up a ladder to make the eavestrough cleaning process risky. The best guards will make debris fall off without obstructing water flow into the gutters. The weight of debris and water in clogged gutters can make the gutters collapse. There is also the risk of water spilling over and flooding your foundation and basement. With many types of gutter guards, which one should you buy? This post looks at the pros and cons of popular types of gutter guards.
1. Brush Gutter Guards
Brush gutter guards are cylindrical in shape and have heavy-duty plastic bristles wrapped in steel wire and slide into the gutters. This gutter guard looks like a long bottle brush that is laid inside the gutters. The system works by keeping large debris from entering the gutter while at the same time allowing water to seep through. The installation process is straightforward, thus the reason this system is recommended in DIY projects. The important thing is to clean the gutters before installing the guard and be ready to clean the brush gutter guards frequently.
When appropriately installed, brush gutter guards filter out large debris like twigs and leaves. Since the bristles allow air to circulate, the gutters will remain dry. As a result, the mechanism helps prevent rusting. When cleaning the gutter guard, you simply remove them from the gutters, shake them and place them back in. These gutter guards will save you both time and money. They are very popular and cost between $20 and $300.
Key Features
The gutter guards are 5 inches wide
Polypropylene bristle material
Available in 6, 15, 30, 60 or 120-foot lengths
Pros
Easy to install, so ideal for DIY projects
Permits air circulation, which helps keep the gutters dry
Installation is simple. You just lay brush gutter guards into your gutters, and you are done
It is inexpensive, with the price ranging from $20 to $300
Easy to remove, clean and install
Cons
Only blocks large debris
Frequent cleaning is needed to remove debris in the projecting bristles
Cannot be taken out in parts during cleaning. You take out the whole thing.
What Do Customers Say?
On Amazon, this product has more than 550 customer reviews. It has a score of 4.4 stars, with 85% of customers giving it 4 or 5 stars. While this may seem impressive, the rating is lower than that of other similar products on Amazon.
In most of the reviews, customers were happy with the way the brush gutter guards work. The customers understood that the gutter guard only kept out large debris. Most reviews stated how they had to rinse their guards frequently to remove smaller debris that was trapped in the bristles. A major complaint was that this gutter guard did not work in yards with lots of trees because it got clogged easily by twigs and leaves.
2. Surface Tension or Reverse Curve Gutter Guards
This is an innovative gutter guard made from plastic or metal. Unlike conventional gutter guards, which work by letting water flow through into the gutter, the surface tension gutter guards force water to flow over the gutter, then around a downward curve and into the gutter. This ensures debris never gets in the gutter. Debris simply slides off and falls to the ground. Small debris will at times get in the gutter, but most are easily washed out.
The reverse curve gutter guard works best when the guard has been installed at an angle similar to the roof's slope. Achieving this is not always possible with long gutter runs since gutters have to be pitched to promote the easy flow of water in the downspout. This means one end of the gutter will hang higher than the other. If the gutter guard is installed on a gutter that is mounted high on the fascia, debris dams may form and allow junk in the gutter.
Reverse curve gutter guards are a lot more visible than other gutter guards. They are harder to install, especially on a steep roof. Other than that, they work great in keeping most debris out.
Key Features
Made from moulded plastic or lightweight metal
Ingenious design where water first flows over the gutter and clings around a downward curve before getting into the gutter
Available in many colours to match the aesthetic and colour of your home
Pros
Inventive design that keeps out large debris
Available in many colours to match your home's colour and aesthetics
Able to withstand branches, ice, snow, and strong winds
Requires little to no maintenance once installed properly
Long-lasting
Cons
One of the most expensive types of gutter guard
Not as common, so buying it might be hard
Very difficult to install. It is not DIY-friendly and only works when installed correctly. You may have to rehung gutters to accommodate these gutter guards.
Very visible from the ground
During heavy downpours, water can shoot over the gutter guard
Might not be ideal for tile, steel, wood and slate roofs
3. Mesh Gutter Guards
Mesh gutter guards are similar to screen gutter guards. They are made of plastic or metal and have tiny holes which allow water to sink into the gutter while keeping debris out. These gutter guards are usually installed by slipping them under the bottom row of the roof shingles, attaching a fastener to the fascia, or snapping onto the gutter.
While they work great in keeping the gutters clear, when compared to screen guards, these guards are a lot more expensive and harder to install. They have smaller holes that prevent more debris from getting in. It is good to note that some variety of the mesh guards are flimsy and are easily damaged by harsh weather.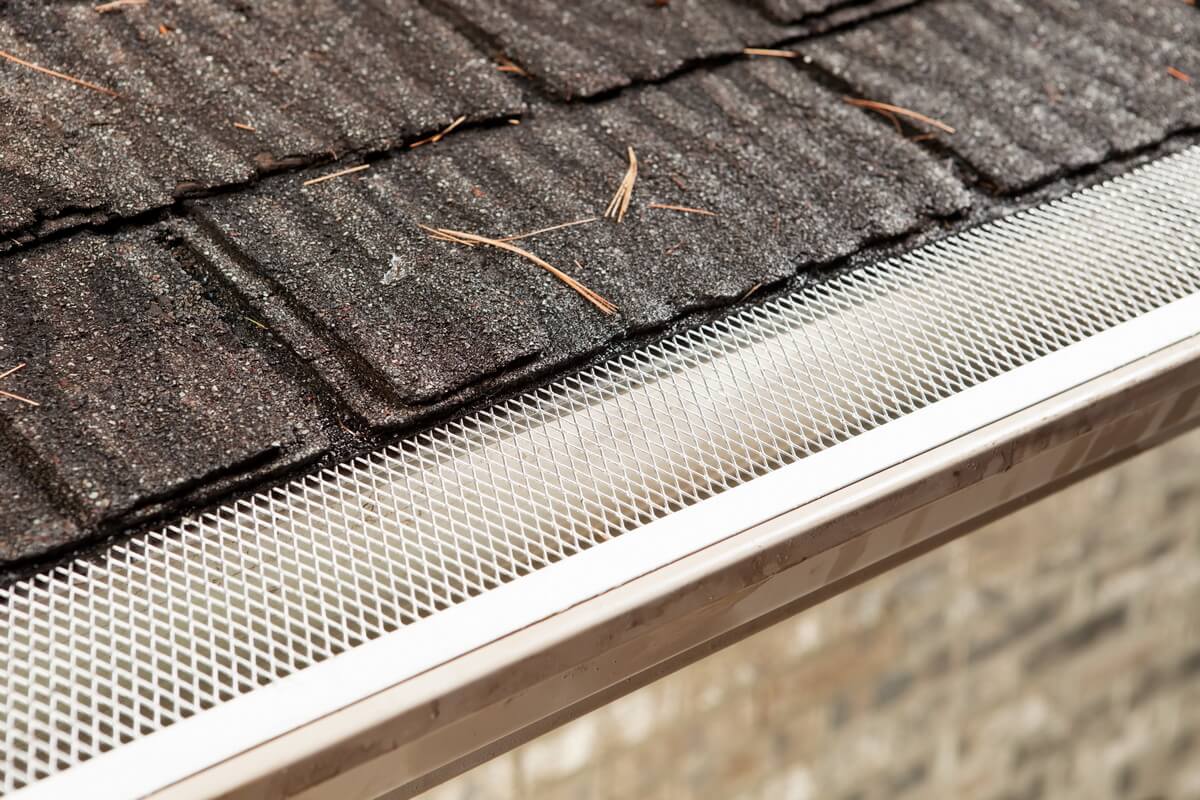 Key Features
Made of plastic or metal
Have smaller holes that keep more debris out
Installed by slipping under roof shingles, by snapping on the gutter or fastening to the fascia
Pros
Have smaller holes than screen guards. This helps keep more debris out.
Can be installed in any of three ways – under shingles, snapping to the gutter or fastening to the fascia
Moulded plastic or metal construction makes them more durable
Cons
They are more expensive to buy and install
Harder to install than screen guards. You may need a professional to help with the installation.
Fragile options are available. These can easily get torn or damaged by bad weather conditions.
What Do Customers Say?
More than 2,500 customers on Amazon have reviewed this product. The product currently holds a 4.6 Stars rating, with 92% of customers giving it 4 or 5 stars. Satisfied customers reported that the product was easy to install thanks to the instructions, surplus of screws and drill bit head that was included in the packaging. The holes in the mesh gutter guard were the main complaint. Customers said the small holes could not allow water to get through during a heavy downpour. This caused water to spill over instead of getting into the gutters.
4. Micro or Fine Mesh Gutter Guards
These gutter guards are similar to the mesh guards, with the only difference being they have smaller holes that help keep more debris out. They work like screens. The tiny holes of the mesh don't clog with needles and seeds, but they may fill with tiny particles such as shingle grit. As a result, these gutter guards require occasional cleaning. Unlike screen guards, the fine mesh gutter guards are easy to brush or blow clean.
Micro-mesh gutter guards can be installed under shingles during installation, or you can bend the back and screw it to the fascia. The installation method helps strengthen the gutters and enables them to hold up under ice and snow avalanches that are common on steel roofs.
You should take note that products made using window-type screen materials get damaged easily by branches and snow. So instead, go for those made of hard surgical stainless steel.
Key Features
Sturdy stainless steel materials
Works with metal roofs
Can be installed under the shingles or screwed to the fascia
Pros
Keeps large and small debris out of the gutter
High-quality versions can hold up to ice, snow, branches and strong winds
Easy to install
Works with many roof types, including steel, tile, slate, shakes and shingles
Can be used with your old, brittle shingles
When installed flat, the installation of micro-mesh products helps strengthen the gutter
They are effortless to clean. You can brush or blow clean.
Cons
Not easy to find on the market
Comes in a limited range of colours
Occasional cleaning and maintenance are needed
What Do Customers Say?
Micro or fine mesh gutter guards have great customer review scores on various review sites, including Amazon, Yelp, BBB and TrustPilot, with an average rating of 3 or higher. Most customers praise the small holes which keep most debris out while allowing water to flow easily into the gutters. Customers were also happy with installing these gutter guards, thanks to the inclusion of screws, drill bit head, and instructions. While the holes may be clogged by shingle grit, customers applause how easy it is to clean the mesh. Most complaints are on how water can spill over during heavy downpours without getting into the gutters.
5. Foam Gutter Guards
Just as the name implies, foam gutter guards are made of foam. They are triangular blocks that sit in the gutters. Their work is to block debris from getting into the gutter while allowing water to pass through the porous composition.
The best thing about foam gutter guards is that they are effortless to install. You don't need a professional to help with the installation. The gutter guards come in small sections, which makes inserting them in the gutter system easy. You can also cut the blocks to fit any corner section. Since the foam gutter guards sit inside the gutter system, they cannot be seen from the walkway or street. They remain hidden and thus will not impact the aesthetics of your home.
While they work great in keeping debris from getting into the gutter systems, these foams have one major drawback – they can be saturated with water in wet climates. Over time, the water saturation may create mould, mildew or rot. You have to replace the foam gutter guards if you notice any of these issues. Foam guards are also not great for keeping pests out. Pests can easily burrow in the foam and create a nest.
All in all, foam guards are very affordable and readily available in local and online stores. However, although they are cheaper than other types of gutter guards, they have to be cleaned and replaced frequently. All the same, they are an excellent option for homeowners that are on a budget.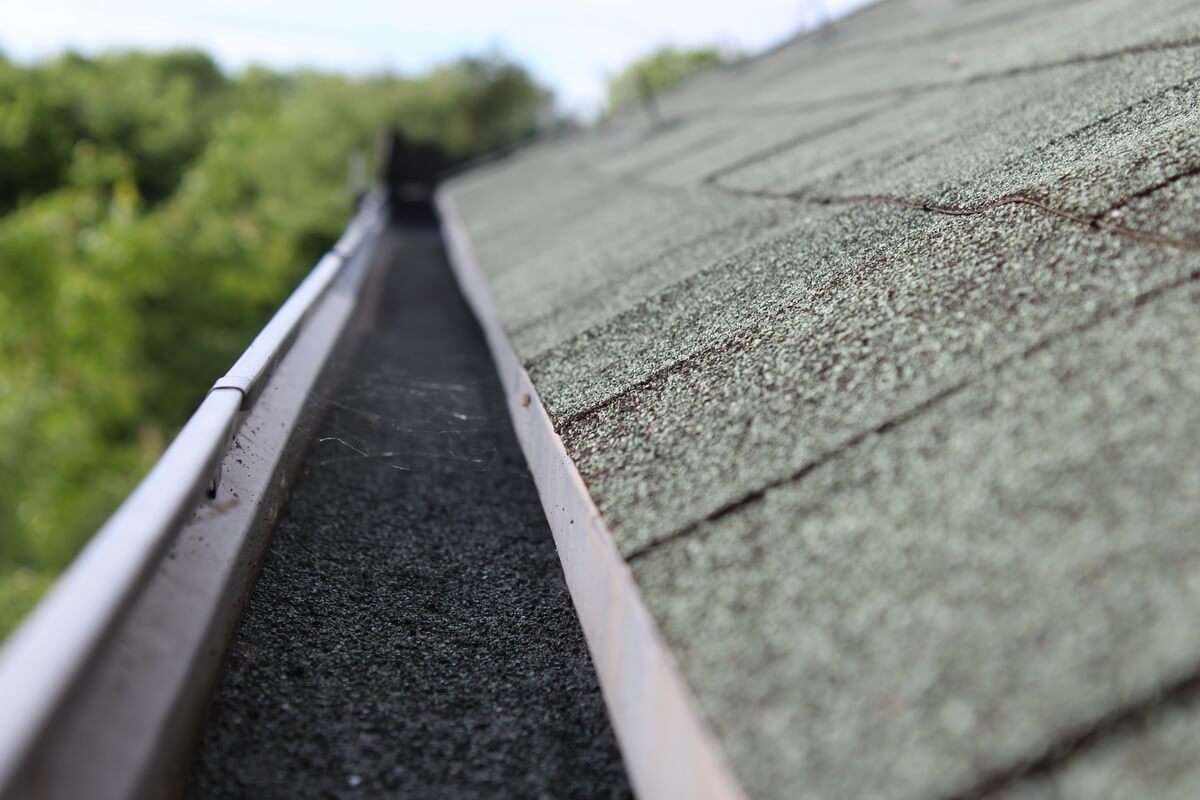 Key Features
Foam material
Come in various widths
Available in various lengths
Most come with a 5-year warranty
Triangular shaped to fit easily in the gutter system
Pros
Easy to install. They are available in various widths and sections. They are also triangular-shaped to fit easily in the gutter system. They can be cut to fit corner sections.
Cheapest gutter guards in the market
Readily available in online and local stores
Filter out most of the debris
Cons
Prone to creating mould, mildew and rot in very wet climates
Require frequent cleaning
Need to be replaced frequently
Harbour pests
Cleaning multiple sections can be tedious
What Do Customers Say?
Foam gutter guards have an average rating of 4.5 stars on Amazon. About 89% of customers give the product 4 or 5-star reviews. Most customers state that they purchased this product because it is effortless to install. There is no need to bring in a professional or spend hours getting it installed. You only need a ladder, and within a few minutes, you are done. On the flip side, customers complained about how easily the foam got soaked with water. Others said it got filled quickly with tiny pieces of debris, thus requiring frequent cleaning.
H2:  6. Screens Gutter Guards
Screens have, for years, been the most common types of gutter guards. They are available in various shapes and are made of a variety of materials. You can install screen gutter guards in one of many ways. These products work best where leaves are the main issue. It is good to note that the openings in the screen are big enough to allow pine needles and seeds in. Cleaning the screens often requires removing them from the gutters. There is also the fact that the screens can get plugged, and cleaning them is not easy since some debris can be entangled in the screen, making it hard to brush or blow them off. The same screens are easy to install with some sliding easily under the shingles.
Key Features
Strong, rustproof material
5-inches wide
Available in a variety of lengths
Work with metal roofs
Come with a lifetime warranty
Pros
Very affordable
Effectively keeps large debris out
Easy to find in the local and online stores
Easy to install. You don't need to work with a professional
Works with many roof types, including steel, shingles, tile, slate and wood
Can be installed to work with old, brittle shingles
Cons
Plastic versions are easily damaged by sunlight over time
High profile styles that protrude above the gutters can be damaged by strong winds, ice, snow and branches
Can be clogged with pine needles and seeds
High profile versions can cause debris dams
Available in a limited range of colours
Both gutters and screens require occasional cleaning/maintenance
Hard to clean
 What Do Customers Say?
Screen gutter guards have very favourable customer reviews. These guards have relatively high customer review scores on sites like BBB, Yelp and Amazon. In most reviews, customers praise the ability of the gutter guard to keep large debris like leaves, branches and twigs from getting in the gutters. However, some customers are dissatisfied with the screens' ability to keep smaller debris out. For example, customers reported that the gutter guard collected debris and trapped pine needles in the holes. This forced them to clean the gutter guards more frequently than they would love; in fact, some report cleaning their gutter guards several times a year. Other customers complained that it is easy for valleys to form on the screen causing more debris to collect and others to get trapped in the spaces.